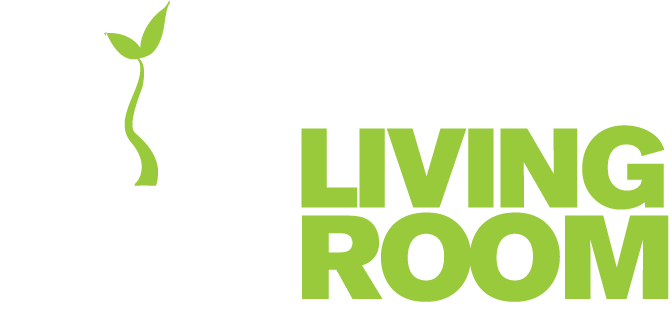 Where young people grow!
T
he Living Room is a Hong Kong based social enterprise that exists to provide a safe and empowering environment in which young people (0 -18 years) can discover and develop their God-given talents and abilities. We provide a variety of services such as school holiday camps, music tuition, creative learning classes and life coaching, which are specifically designed to identify each individual child's unique set of skills and giftings, providing the encouragement and nurturing for them to take root and grow.
The Living Room is run by Matthew and Megan Snelgrove, both true third culture kids who grew up in Asia, with a huge heart for Hong Kong. Through their professional and life experiences, Matt and Meg have seen first hand the effects of the pressures and expectations placed on young people in Hong Kong and have a good handle on both the local and expat scene.
Matt has been working with teenagers for ten years as a youth pastor at The Vine Church, and continues to work with youth in high schools across Hong Kong. He is also the creator of Rock Revolution, a successful music initiative that develops talented young and upcoming musicians. Megan has a background in education and worked as a preschool and primary school teacher for seven years. The past few years she has been taken time out from her professional career to raise two beautiful young girls.
With Matt and Meg's passion to seeing Hong Kong kids develop into their full potential, combined with their skill and experience, The Living Room is a creative, lively and inspiring place for all young people to be.

CONNECT – Authentic Community:
We create an environment that welcomes everyone no matter of race, background or academic level. Friendships are formed, trust is established, and kids can be themselves without unnecessary pressures and expectations. This creates fertile ground for true personal development.

CULTIVATE – Personalised Education:
We then work both one-on-one and in group settings with the kids to help them discover their talents, passions and giftings. Once they are identified, we then spend time encouraging and nurturing these gifts to grow through support and training tailored to individual needs and learning methods.

CONTRIBUTE – Adding Value:
Finally, we work with the kids to find unique and fun ways in which they can express these new found gifts and talents while having a positive impact on those around them. Our goal is to see them become active members of their families, communities and greater society.
For more information contact info@thelivingroom.hk

The Living Room - 1/F, 90 Sun On Village, Sai Kung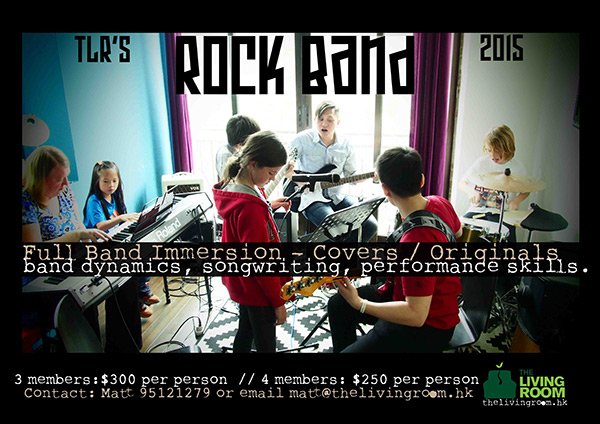 Rock Band Training
Do you want to be in a band? Each week one of our team will personally work with your group to help you understand how to get the most out of playing in a band, together we will play cover songs, understand band dynamics, start songwriting and performance elements.
3-4 member band: $300 per lesson, per person.
(paid monthly at first lesson each month)

"The Living Room provides a good musical environment whereby kids of similar ages and skill levels can get together to jam, learn, and have a good time, under the supervision of caring and talented leaders. (Plus it provides a great place to play LOUD music, which Hong Kong housing doesn't always afford."
– Parents Feedback
Group Acoustic classes
Ever wanted to learn how to play guitar? Let us equip you with the fundamentals to practical guitar playing. In the sessions we will cover areas such as: understanding different chords and strum patterns. We will also learn to play cover songs and write songs together. Group size is 4-6 students.
$250 per hourly lesson, per person.
(paid monthly at first lesson every month)
"He really looks forward to his lessons each week. Also he really enjoyed the Rock School Jnr. experience at Easter."
– Parents Feedback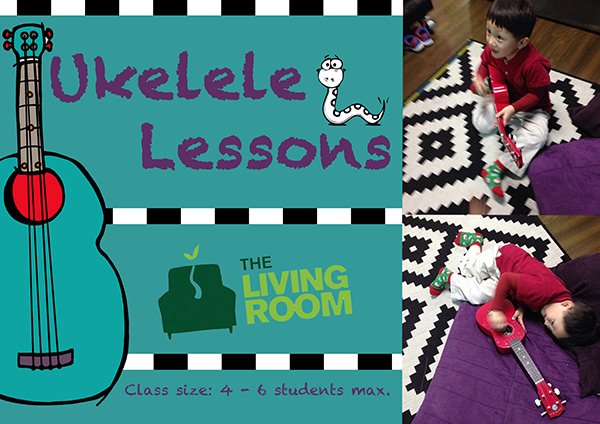 Ukelele
Come join Mr. Matt as we play, sing and run some silly games, who knew playing Ukelele could be so much fun? During these sessions we start with a silly warm ups, learn the chord of the week, learn some simple songs and look at different strum patterns… There are never any more than 6 students per class and there in only one rule, have lots of fun!!
$250 per 45 min. session, per person.
(paid monthly at first lesson each month)
Private Lessons
We also offer Guitar, Drums, Piano, Bass and Ukelele lessons. Where we can either go to your house or you can come to The Living Room and have one on one personal training to really help you develop and focus on your own personal development. For a free trial lesson please contact us today!
Private: $700 per hourly lesson.
(paid monthly at first lesson every month)
2 Person Class: $700 per hourly lesson.
(paid monthly at first lesson every month)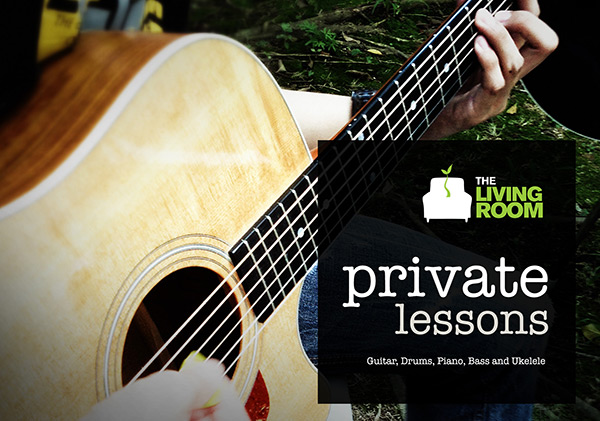 "My children are enjoying the private lessons, The Living Room is doing great!"
– Parents Feedback
To book a lesson call 9512-1279
The Rock School is a 3 day long camp that puts youth in a band situation where they are taught basic music theory, learn all about the dynamics of paying in a band, and discuss how they can use their new found skills to make a positive contribution to society.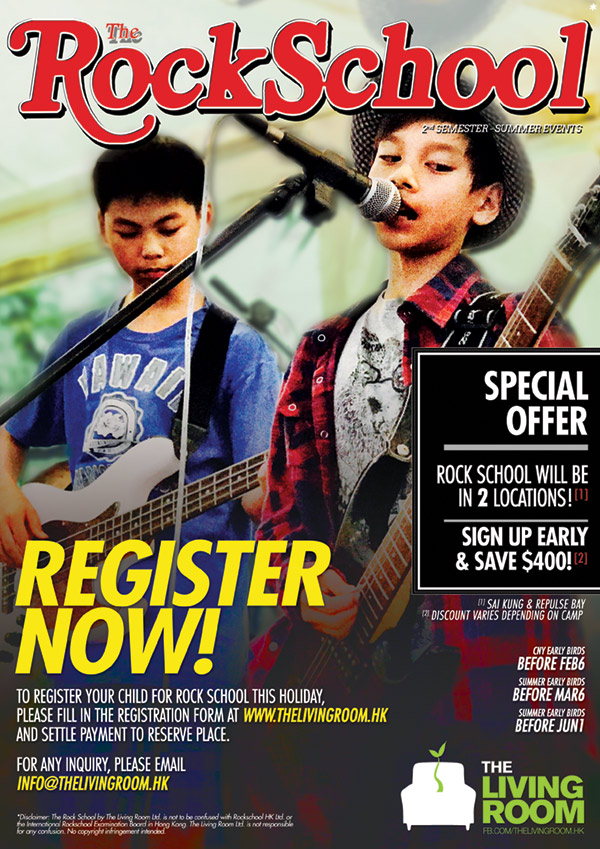 Rock School Sessions:
10am-3pm
With Performance:
3pm-4pm on the last day
Cost $3200 Early Bird
, $3600 Regular
CNY Dates
Sai Kung
Camp A: 13th-15th February (8-15yrs)
Camp B: 20th-22nd February (8-15yrs)
Camp C: 23rd-25th February (8-15yrs)
Easter Dates
Sai Kung
Camp D: 30th March – 1st April (8-15yrs)
Camp E: 2nd-4th April (8-15yrs)
Camp F: 5th-7th April (8-15yrs)
Camp G: 10th-12th April (8-15yrs)
Early Bird Savings
Sign up and settle payment before the dates below and get $400 off!
CNY early bird: before 6th February
Easter early bird: before 6th March
Register For Rock School Now!
The Living Room is running 3 camps over the Chinese New Year and 4 camps over Easter.
All you need to do to register is fill in the form on the right and send through payment.
Chinese New Year early bird: before 6th February; Easter early brid: before 6th March. Regular charges will apply after that date.
LOCATIONS
The Living Room
1/F 90 Sun On Village,
Sai Kung
PAYMENT DETAILS
By Cheque:
Please make cheques out to "The Living Room Ltd"
and post to –
G/F 152 Pak Kong Rd
Sai Kung, N.T.
Hong Kong
By Bank Transfer:
Bank – HSBC
Account name – The Living Room Ltd.
Account number – 004 652-229774-001
To secure your place full payment should be made within 24hrs of registration. Cancellation: 24 days before event commences there will be a $1000 cancellation fee. 14 days before event full charge fee, there will be no refund. For exceptions please look at our terms & conditions for more details.

Want more information? Fill in the contact form below
FACEBOOK